Ivermectin Company Merck & Co Re-Packaging Antiviral Pill for COVID-19 – Media Now Excited about it
Merck & Co. already failed twice in its quest to develop a vaccine, but now says an experimental antiviral pill for COVID-19 reduces the risk of hospitalization and even death by half of the people infected with the virus when given early.
During clinical trial, Molnupiravir, was given to the patients recently infected with COVID-19 twice a day and the results were outstanding according to the company.
Within the next two weeks, Merck will ask health officials for emergency use authorization for the drug in the US and around the world.
The news came as a welcome surprise to the public, although COVID cases are already waning in the US and in hard-hit economies in Asia, the drug could create "a real therapeutic advance" that could dramatically decrease the risk of death from COVID.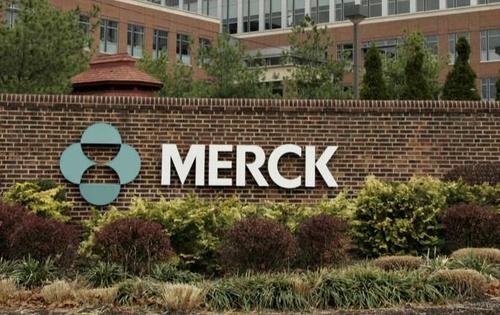 If approved (and odds are it will be) the drug would be the first treatment for COVID. Some compared it to tamiflu, in that patients should take it within 5 days of COVID infection (like those infected with the flu are instructed to take tamiflu early).
Former FDA Director Dr. Scott Gottlieb told CNBC that the trial results are clearly "profoundly" positive, even though researchers decided to stop the trial early because the drug showed significant success, meaning it would be unethical to keep giving patients placebos. To test the drug, they needed to test more than 700 unvaccinated people in a global study. The people were all considered in the "high risk" category due to factors like age, and other characteristics from their "health profile".
Per the results, 7% of volunteers in the group that received the drug were hospitalized, and none of them died, compared with a 14% rate of hospitalization and death (include eight who died) in the placebo group.
According to Dr. Gottlieb, "this is a phenomenal result. This is a profound game-changer that we have an oral pill that had this kind of effect on patients who are already symptomatic."
Dr. Gottlieb also pointed out that the team that developed the drug "also invented the first successful antibody against ebola so this is a very good drug-development team."
"And remember we have two other drugs in development one by Pfizer (where Dr. Gottlieb serves on the board) and the other by Roches," he said.
Patients won't be taking the drug for very long, typically around five days, which means "the safety profile is probably pretty good," Dr. Gottlieb said.
"This is a phenomenal result. This is a profound game-changer to have an oral pill that had this kind of effect, this magnitude of effect in patients who are at high-risk who are already symptomatic," says @ScottGottliebMD on news of $MRK's #covid19 antiviral study result. pic.twitter.com/2cfI3BFQUd

— Squawk Box (@SquawkCNBC) October 1, 2021
The liberal media is touting the news but downplayed and lied about hydroxychloroquine (HCQ) and Ivermectin for over a year now.  This is despite HCQ's 75% success rate in early treatment mortality tests and Ivermectin's solid results in India and elsewhere.
Talking about early treatment, Ivermectin has proven its efficacy worldwide and yet there's still a media blackout. The Gateway Pundit previously reported about the success of Ivermectin in Uttar Pradesh in India when given early to the recently diagnosed with COVID-19 and now the said state is COVID-19 free.
COVID cases are plummeting in India thanks to new rules that promote Ivermectin and hydroxychloroquine to its massive population. The 33 districts in Uttar Pradesh, India have now become free from COVID-19 government informed on Sep. 10. The recovery rate has increased up to 98.7% proving the effectiveness of IVERMECTIN as part of the "Uttar Pradesh Covid Control Model." Of course there's a media blackout, the media won't mention that Ivermectin is being used for the treatment of COVID-19.

Uttar Pradesh is the leading state in India to use Ivermectin as early and preventatively in all family contacts. And this state is one of the five lowest COVID cases of all states in India despite having only a low vaccination rate compared to the USA.